You are viewing : Home » News areas » Magic Engraving Machines - Latest News - Lockdecoders » 5 Engraving Tips from Graphic Designer - MAGIC Engraving


5 Engraving Tips from Graphic Designer - MAGIC Engraving
Posted on 04 May 2016

Throughout the recent years the pace of technological change has been astounding. I remember when I was spending hours making sure all ink lines were identical when drawing or the illustration would get spoiled. Nowadays any mistake can be easily tweaked in Illustrator within minutes.

It can be challenging to keep up sometimes – but today it is essential for those who want to grow their businesses and engraving industries are no exception.

With engraving machines getting smarter and opening exciting opportunities to do more complex things, it is vital to learn new tricks when it comes to CNC and laser engraving.

Here are few tips that I would like to share with you:

1. Meet Vector – your new best friend.

Vector-based images are not made up of a specific number of dots or pixels but are composed of lines or paths so they can be scaled to a larger size and not lose any image quality. If you blow up a JPEG or bitmap image, it will look blocky, or "pixelated". When you blow up a vector graphic, the edges of each object within the graphic stay smooth and clean. This makes vector graphics ideal for logos, which can be small enough to appear on a business card, but can also be scaled to fill a huge poster. Common types of vector graphics include Adobe illustrator, Macromedia Freehand and ESP files. Many Flash animations also use vector graphics, since they scale better and typically take up less space than bitmap images.

By saving your file in vector format like SVG you can be certain that the edge of the engraving (and cutting) will be marvellously smooth, giving your finished product a real touch of luxury.

The great news is that you don't even have to have Adobe Illustrator at hand, as there are many free online platforms nowadays that let you upload your design file and covert it to SVG (scalable vector graphics) for free.

Check out www.image.online-convert.com where you will be able to convert almost any picture to vector at no cost.
Vector file - MAGIC Engraving - VS - JPEG file - MAGIC Engraving
>2. Custom font it up!
As I learn more about the world of engraving, I find that many of you still use default fonts. Why not to try something new? There are dozens of free websites offering a vast choice of wonderful fonts some even allowing you to use the typefaces for commercial purposes.
The chances are that if you purchased your engraver in a past 5 years its software will load any font installed on your computer, so why not give it go?
Some of the websites worth checking are www.dafont.com, www.1001fonts.com, www.fontsquirrel.com.
3. Add some personality!
The great thing about engravers nowadays is that they let you be flexible. If you are engraving something with a complex composition, for example a picture of your pet, its name with fancy Victorian border, you don't necessary need to engrave all motifs in the same hatching style since most programs give you an option to selectively choose the elements you want to engrave. So why not spice things up by choosing different hatching styles in elements of your design? It will add personality to the engraving composition, giving your design a touch of artistry.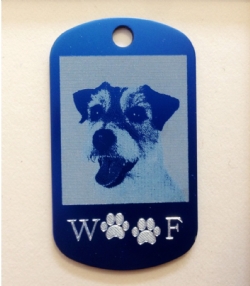 4. Paint it!
Have you ever used acrylic paint? If you did, then you probably already know that it becomes water-resistant when dry, making it an awesome tool if you want to jazz up your engraving, giving it a hint of colour.
I find that sometimes when it comes to the engraving of mobile phones, especially the ones in plastic casing, the design doesn't really stand out. This is when acrylic paint serves well. A drop on a cloth and gentle rub into grooves of the engraving and it leaves a sleek hint of colour, making the finished composition to come alive.
Before - VS - After - MAGIC Engraving
5. Record, record, record!
One of the fundamental rules of graphic design that I have kept when I started to do the engraving was to keep a settings record for each new engraving or cutting job that I did.
From optimum font sizes and complimentary typefaces to best engraving depths and hatching settings, keep a record of all new and specific jobs that you do as it will help you not only to build an extensive knowledge in best custom settings for various types of metal and plastic, materials and applications, but also it will greatly reduce the amount of errors and material waste that sometimes occur when deal with complex or unusual tasks.
Magic 2, Magic 5, Magic 20, Magic F30, Magic F300, Magic 50, Magic 70